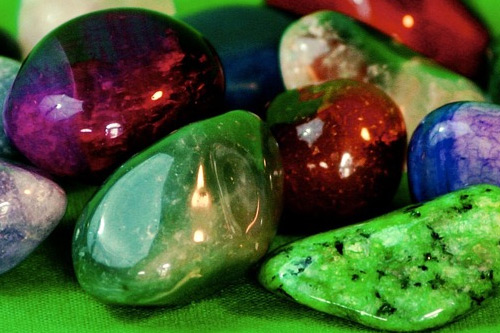 Jade stone facials are the new rave in many major cities with its anti-aging beauty benefits. This facial isn't one that focuses on extractions, but the release of impurities from within by opening up and stimulating lymphatic drainage. The list of benefits for a younger looking complexion include; toning, lifting and firming skin, reduction in the appearance of fine lines, wrinkles, puffy eyes, dark eye circles, as well as restoring natural skin tone and texture. The jade stone rejuvenating facial is a perfect choice for those who want to look radiant before a big event.
This anti-aging service is ideal for all skin types and is beneficial for both men and women to help reduce the signs of aging that eventually affects us all. This is not a permanent fix for those fine lines or loose skin, but you can definitely see immediate results that can last up to weeks. A jade stone facial massage is performed on clean skin (without makeup) using fractionated coconut oil and warm jade gemstones. During the facial the jade stones are manipulated in very specific gentle and smooth motions, that instantly stimulate movement of lymphatic fluids and blood circulation, thus causing the immediate result of lifted, even-toned, and glowing skin.
The face has 300 complex pressure points that relate to every part of the body. We don't use half of them in our daily lives. Therapists use a gentle and light touch with the gemstones to massage your face, activating lymphatic draining which detoxifies the skin. Lymphatic drainage helps to reduce puffiness and boost the immune system, which in return, can mean less breakouts and a clearer complexion. Stimulating facial pressure points can also relieve sinus problems, regular headaches, TMJ syndrome, and other head and neck issues. Not only do you get to reap the benefits for some health concerns, but you also receive the beautify benefits as a bonus. Receiving regular facial massages will help your body stimulate energy flow through your organs to rebalance from the inside out. The rejuvenating anti-aging beauty perk is only one of many benefits of this facial.
Jade is a protective stone that signifies tranquil wisdom, and is a symbol of serenity as well as purity. It's a natural gemstone with a microelement composition that transmits heat to help circulate internal pathways throughout the body. When it comes into contact with skin, the gemstone generates an electromagnetic field around the body. Using jade gemstones for facial services work by creating an energetic friction to the area, followed by energetic canals with motion. Jade gemstones also assist with the overall balancing of the body system and mind. Jade helps to remove toxins, rebind skeletal and cellular systems, aid in body filtration, as well as soothes the mind- releasing negative thoughts and irritability. There is no guarantee that everyone will benefit from these treatments. Each individual responds differently, and some may benefit more than others. Either way this smooth gentle facial service is definitely going to leave you feeling fresh, relaxed, and looking your best!
Whether you need a facial or other spa treatments, our soothing Athens massage palace invites you to melt away your pain and stress today!
Foot Palace Massage Spa Athens
196 Alps Rd Ste 31
,
Athens
,
GA
30606
(706) 521-5290
Foot Palace Massage Spa Braselton
2095 Highway 211 NW Suite 7B
,
Braselton
,
GA
30517
(678) 963-5958