If you and your loved one are looking for a soothing Athens evening and a way to spice up the relationship, consider our couple's reflexology acupressure massage? You can enjoy each other's presence in a private setting while experiencing rejuvenating rest and mindful repair treatment.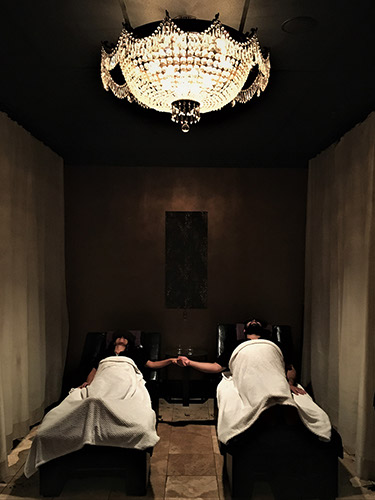 Couples Foot Reflexology (Specialty)
Together, you can sit back, relax, and put your feet in our hands to soothe your soles. You start with a hot-water mineral foot soak, while simultaneously receiving acupressure and massage of the face, head, neck, and shoulders. Then, reflexology on your feet and lower legs stimulates reflexive points that promote inner organ functions and improved well-being.
60 MIN $80
Couples Palace Package Day Away
In today's busy world there is seemingly less time to relax with your loved one. As a couple, take the stress and aches of your day away with this blissful rejuvenation treatment. A relaxing stress reliever that loosens stiff muscles and improves circulation in your hands. This massage finishes with a hot-water mineral foot soak and stimulating acupressure on your feet and lower legs.
30 MIN Face, Head, Neck & Shoulder  + 30 MIN  Foot $120
Couples Palace Package Royal Treatment
Rejuvenate in a complete state of tranquility while being pampered like royalty. This full-body complete couples package provides the best pampering and reflexology massage to every part of your body. This is a full 120 minutes of complete relaxation and rejuvenation to experience together.
60 MIN Face, Head, Neck & Shoulder + 30 MIN Hand & Arm + 30 MIN Foot $240
Whether you're looking to escape the stresses of everyday life or spend one-on-one time together, a couple's reflexology acupressure massage is always a great option that you won't regret! Visit www.yourfootpalace.com or call our Athens Spa 706-521-5290 to make your couples massage reservation. Service prices do not include gratuity. We do accept walk-ins if we have open availability but appointments are highly recommended. Scheduling is flexible, fast, and easy.