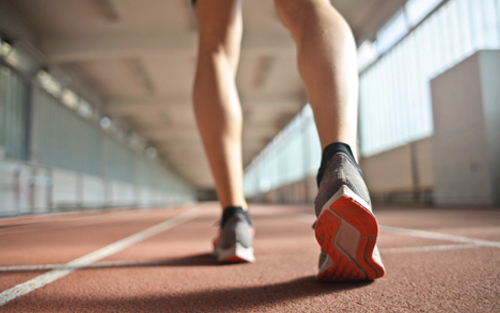 Health and fitness became a huge priority for most people during the height of the pandemic. While gyms closed down and people were stuck at home, there has been a rise in home workouts. So much so, that according to a Research and Markets report, the global market for athletic footwear is estimated to reach €85.2 billion by 2027 – experiencing an annual 4.9% growth from its 2020 value of €61 billion. As the pandemic becomes more manageable and people are starting to get back into their fitness routines, athletic footwear has become even more popular. More importantly, they're fast becoming an everyday essential to maintain health and wellness.
So with that in mind, here are a few reasons why you need to invest in proper, well-fitting athletic footwear:
Boosts athletic performance
Athletic shoes are specifically designed to suit either a sport or activity. For one, you wouldn't wear football boots for a tennis match. Even running shoes aren't particularly ideal footwear for the gym. Good athletic shoes are created with the user in mind.
These days, brands work with athletes to design shoes that are optimized for their sport. This is evident on the SoleSavy podcast, where they talk about how today's sports shoes are created through collaborations between athletes and brands. In one of their episodes, SoleSavy featured NBA All-Star Draymond Green who talked about his excitement over his new Converse PE sneakers, debuting during the NBA playoffs. Through these collaborations, athletic shoes are engineered to give the wearers heightened performance and comfort.
Improved stability
When you're doing an activity that requires stabilization, such as plyometrics or jumping, certified strength and conditioning specialist Trevor Thieme urges the use of proper footwear. Thieme says that on top of having the right (springy) surface to do these activities, one must also have the proper shoes for them. Shoes with shock absorption are your best bet. They offer more balance and stability, minimizing the chances of falls, which can lead to very serious injuries.
Reduces the risk of injuries
Physical activities are demanding on the feet. This is particularly true for high-impact sports where injuries are commonplace. Take running, for instance. It puts stress on weight-bearing joints, which may lead to joint pain, tendonitis or even stress fractures.
A Livestrong write-up states that the right athletic footwear provides the midsole cushioning and arch support needed to prevent the aforementioned injuries. Moreover, the outsole protection provides a solid barrier between the feet and environmental hazards. Whether you're running outdoors or working out in the gym, it's a good idea to keep your feet covered and secure. This doesn't just help prevent musculoskeletal damage but also reduces the risk of cuts and scrapes.


Enhanced recovery support
As we mentioned in our post on 'Vitamins and Minerals That Can Speed Up Injury Recovery', there's no magical cure to accelerate recovery. While that may be the case, you can take steps that alleviate pain – and one way is through wearing the right footwear. Athletic footwear goes beyond just workout and training shoes, they also include what you wear after exercise. Some examples of great post-workout footwear include slides and recovery sandals. They allow your feet to breathe after strenuous activities while providing grip and comfort, aiding recuperation.
For more tips and information about keeping your feet happy and healthy, head over to the Foot Palace blog.
Image: Pexels