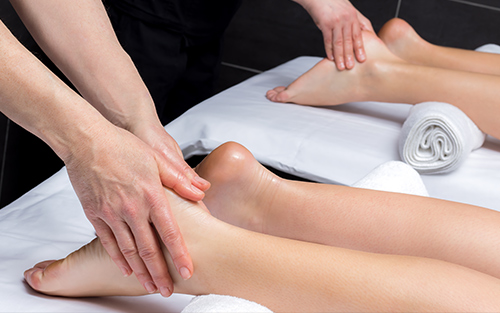 Let's face it, planning a wedding can be stressful-mentally, emotionally, and physically for everyone involved. The wedding, and the parties with friends and family leading up to the big day, are wonderful joyous times, but certainly are not without a few freak out moments. The stress from planning this major life event can bring out the dark side of your closest, friends and relatives. Yikes! Not to worry, reflexology can help!
Regular Reflexology massage sessions will help you handle stressful situations in a calmer manner.At a time when you literally run your feet off, your feet are the best place to start when you're trying to destress. Reflexology is a deeper way to relax, and is the best foot rub you'll ever receive. The pre-wedding period should be a positive one for everyone involved in your wedding party. You want your wedding planning process to bring you closer to your spouse, family, and friends. Over-stress can interfere with this goal, causing even more tension between you as a couple. Incorporating massage can help with relaxing, feeling balanced and coping with your frazzled mind from pre-wedding stress.
Brides and grooms receiving couple's massage sessions is a great way to connect during this chaotic time. It can be easy to "lose" one another in planning this extraordinary life event. Planning a romantic date night, for just the two of you, to have a Couples Reflexology Session is a great way to unwind together. Take an hour, once a month for the both of you to get a Reflexology service, we promise, you will not regret it! Use this hour to completely take a break, and allow yourself to unwind from any stress you may have from planning your wedding. Reflexology services are wonderful stress busters to help you get your wedding "zen" back. It's great way to allow your body to relax and unwind so you arrive at your wedding day feeling peace, joy and looking your best. You will leave feeling relaxed, energized, balanced and will have a restful night's sleep. When you feel good, you look good!
Don't forget about your bridal party and family members as well. They have showers to plan, and bachelor/ bachelorette parties to make perfect for you both. Offering reflexology sessions for your Mom, Mother-in-law, Father, Father-in-law, and bridal party, with YOU of course, is a great way to say "Thank you!" for all their hard work. Booking a reflexology party is great way to bond and decompress before the wedding and have everyone at ease the day of. A little love to everyone's feet will pay off in blissful comfort and the stress will melt away. The foot corresponds to various organs in the body, allowing Reflexologist to work out the kinks in the feet which gives an all-over positive result. Having a positive energized bridal party will only help to make your big day a joyful time. An open concept spa is a huge bonus; this allows everyone in your group quality time together. Reflexology parties also make a perfect start to a bachelor or bachelorette party before the night begins.
Your wedding day will pass by in a blur, remember to enjoy the time leading up to it. Don't let the little things and stress spoil the fun out of your celebration. Click here to book your pre-wedding couples massage.
Foot Palace Massage Spa Athens
196 Alps Rd Ste 31
,
Athens
,
GA
30606
(706) 521-5290
Foot Palace Massage Spa Braselton
2095 Highway 211 NW Suite 7B
,
Braselton
,
GA
30517
(678) 963-5958