Is your stress or anxiety making it difficult to focus or function throughout your day? Find stress relief and a more calm state of mind by practicing meditation, getting regular massages, and doing yoga.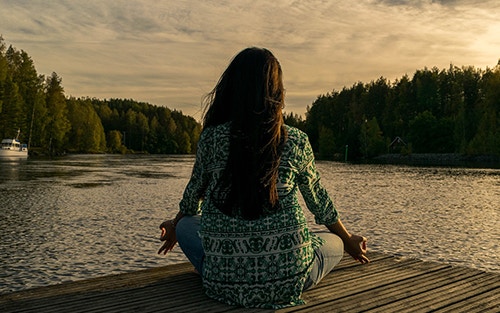 yourfootpalace.com gathered the following information to help you further understand the benefits of meditation, massage, yoga, and determine which or a combination of them best suits your physical and emotional necessities.
Benefits of Meditation?
Incredibly, just a few minutes of meditation can be enough to return your state of mind to a calm and peaceful place.
Practiced and perfected over several millennia, meditation allows you to attain a state of peace and balance by eliminating the rambling thoughts congesting your mind and causing you stress. Some of the emotional benefits of meditation can include:
Gaining a better perspective on complex or stressful situations
Building the skills to manage stress
Increasing your self-awareness
Gaining clarity of your state of mind and body
Regaining perspective on the present
Reducing and eliminating negative emotions
Allowing more space for your imagination and creativity
Increasing your patience and tolerance levels
Meditation for Ailments and Illnesses – Current scientific research is divided on the health benefits of meditation. However, a significant portion of that research suggests that meditation can help manage or mitigate symptoms of the following conditions:
High blood pressure
Heart disease
Irritable bowel syndrome
Sleep irregularities
Anxiety/Stress
Chronic pain
Asthma
Cancer
Depression
Headaches
Tip: Before using meditation to treat or mitigate the symptoms of any ailment, consult your primary care physician or health care provider to explain your intentions, the benefits or potential worsening of symptoms by using meditation.
Types of Meditation – The term meditation describes several ways to reach a relaxed state. The following are some meditation and relaxation techniques with meditation components:
Qui Gong (part of traditional Chinese medicine combining relaxation, movement, and breathing)
Tai Chi (slow and graceful Chinese martial arts)
Guided Meditation (utilizes as many senses as possible and is usually led by a guide or instructor)
Mantra Meditation (silent repetition of a word or phrase to inhibit distracting thoughts)
Yoga (more on this below)
Meditation, like any muscle, requires practice. You may feel awkward in the beginning or not achieve your intended outcome. Still, in the long run, practice and determination will help you make meditation a successful addition to your health and wellness habits.
Benefits of Massage
There's more to a massage than getting a moment of relaxation. Whenever you reach over to massage a sore muscle or painful joint, those are your natural instincts engaging when you need relief.
There is a wide variety of massage types, durations, and applications. By getting a massage, you can benefit from:
A more relaxed body
Reduced muscular or joint pain
Headache relief
Reduced back pain
Increased flexibility
Reduces chronic stress
Insomnia relief
Increased blood circulation
Reduced fibromyalgia symptoms
Sports injury recovery
Alleviated anxiety
While massage produces heightened feelings of relaxation, relief, and comfort, it should not be used as a replacement for regular medical care. Communicate to your primary care physician or health care provider that you intend to try massage along with any treatment plan you are on and follow their instructions.
Types of Massage – There is an abundance of massage disciplines to choose from. The following are some of the more popular:
Deep Massage (slower and more forceful – typical for muscle injuries)
Sports Massage (uses long strokes, vibration, and tapping to help prevent injuries)
Swedish Massage (uses gentle long strokes, kneading, circular movements, and vibration)
Couples Massage (similar to the Swedish massage, with a focus on creating a rejuvenating couples experience)
Hydrotherapy (uses water jets, underwater massage, mineral baths, etc.)
Myofascial Release (used to relax contracted muscles, increase circulation, and increase muscle stretch reflex)
Shiatsu (uses pressure applied by the thumbs, fingers, and palms)
Reflexology (applies pressure to designated spots on the feet and hands that correspond to internal organs and energy pathways)
Regular massage treatments can promote a better quality of life for those suffering from anxiety, neuromuscular disorders, menopause, or chronic stress.
Benefits of Yoga
Yoga focuses on the body's natural tendencies toward health and self-healing. The principal purpose of yoga is to build awareness, harmony, balance, and strength for the mind and body.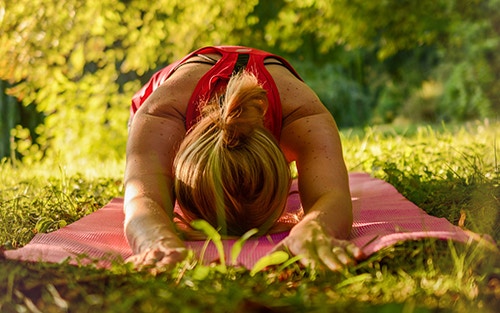 With more than 100 types of yoga, the majority of all yoga sessions will include assuming postures, breathing control exercises, and meditation. All while stretching and flexing various muscle groups. The physical benefits of yoga can include:
Chronic pain relief
Reduced back pain
Headache relief
Improved cardio and circulatory health
Weight loss
Increased flexibility
Increased muscle strength and tone
A balanced metabolism
Protection from muscle strains and injury
Some of the mental benefits of yoga can include:
Stress relief
Clarity and a sense of calm
Centers attention/improves concentration
Body and self-awareness
Types of Yoga – There are many styles of yoga with unique characteristics. Before your yoga journey begins, it is recommended to consult your physician or healthcare provider if you are undergoing any type of treatment or physical therapy. The following are some of the more popular types of yoga:
Hot yoga (practiced in heated rooms)
Flow yoga (includes aerobic elements)
Alignment-oriented yoga (focuses on precision body movements)
Gentle Yoga (less demanding classes focused on relaxation)
Fitness yoga (may consist of aerobic conditioning, building stamina, and gaining strength
Spiritually-oriented yoga (often includes yoga philosophy, chanting, and meditation)
It is always recommended to consult with a school or the teacher to understand their application and determine if it will fulfill your expectations.
Physical Benefits of Meditation, Massage, and Yoga
In this article, you discovered the benefits and various types of meditation, massage, and yoga that can benefit and increase your quality of life.
By participating in meditation, massage, and/or yoga sessions, you feed your body's natural tendencies to achieve balance, heal, and destress.
Without meditation, massage, and yoga, you may find yourself becoming more reliant on medication to find relief from chronic pain, anxiety, and other ailments.
Sources:
lifehack.org/363310/20-reasons-why-massage-can-significantly-benefit-your-health
osteopathic.org/what-is-osteopathic-medicine/benefits-of-yoga/
mayoclinic.org/tests-procedures/meditation/in-depth/meditation/art-20045858
amtamassage.org/findamassage/massage_type.html
chiro2go.org/index.php?p=508042
yogaalliance.org/learnaboutyoga/aboutyoga/typesofyoga
Foot Palace Massage Spa Athens
196 Alps Rd Ste 31
,
Athens
,
GA
30606
(706) 521-5290
Foot Palace Massage Spa Braselton
2095 Highway 211 NW Suite 7B
,
Braselton
,
GA
30517
(678) 963-5958