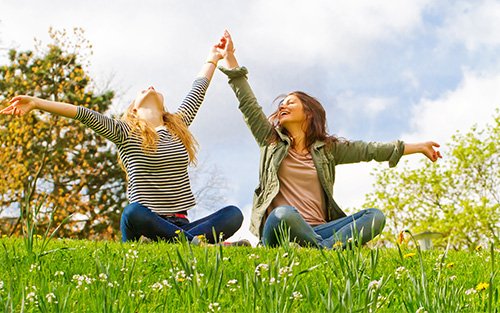 We all know that balancing life can be a challenge. Life can really start to pile up between work, school, chores, and social obligations. Life can really spiral out of control without a moment's notice. With life pulling you in every direction, who has time for self-care? When you create a daily routine, life's tasks seem to become more manageable and balanced. A routine can help balance one's life to fit in time for yourself. Self-care should be a priority, but is put off more often than it should be. How can you be your best for your obligations in life, if you can't even make time for yourself? Do yourself, your family, and your friends a favor, and build a life routine that allows some you time.
Health is About Balance
Balancing your time is quite helpful in keeping yourself healthy, happy, and stress free. It's not just about being productive and meeting your obligations. It has been found, in a number of studies, that people who make time for self-care, handle stress better, and meet their goals. Creating self-care balance is different for every one of us, but we all need it. Time dedicated to yourself can be as simple as napping, meditating, talking to a friend, working out, or getting a massage. Really, a number of activities can help balance your life. Life's balance is about creating a routine for yourself that will give you pleasure, therefore reducing stress.
Reflexology Massage Therapy Benefits
Creating time for yourself, to receive a reflexology massage, can really add a little pep in your step. Who doesn't like a little extra pep these days?! Now, many of us consider massages to be a luxurious treat for ourselves on special occasions. Truth is, reflexology provides many benefits, which is why adding this time into your routine to maintain optimal health, is more important than you thought. Reflexology is a stress buster, energy boaster, and promotes relaxation, just to name a few benefits. Reflexology massage therapy triggers parts of the brain that improves mood and decreases stress, providing you with a sense of calmness and alertness. This is why we typically choose to get massages on special occasions. If you are like most people, where life deals you a hand of daily high-stress, mixed with a chaotic schedule, taking this self-time weekly or monthly, will really help your body and mind, so you can be at your best for everything life throws at you.
Finding Balance, Boosting Energy, and Improving Your Life
Reflexology therapy is not just a relaxing time to bust stress for a better mood, but for overall balance of a healthy body. Aligning various organs and your muscle system, reflexology helps to increase metabolism and energy. This helps to give you a boost of energy, wiping away that sluggish feeling. Balancing your life's routine with self-care will improve your overall self that you and your family will notice. Remember, you are only given one mind and body in life, don't run it ragged, take the time to maintain it like a well-oiled machine.
Our reflexology therapists are trained in relaxation and spa massage techniques that help you eliminate stress and achieve balance of your mind and body. Get your routine started!
Foot Palace Massage Spa Athens
196 Alps Rd Ste 31
,
Athens
,
GA
30606
(706) 521-5290
Foot Palace Massage Spa Braselton
2095 Highway 211 NW Suite 7B
,
Braselton
,
GA
30517
(678) 963-5958